Discover CBD forPlant-Based Wellness
Cannabis, like many sacred herbs, has been an ancient form of medicine within many indigenous cultures for centuries. Today, Western society is taking a second look at the healing benefits of Cannabis, a socially and politically controversial plant, using advanced technology to provide more scientific research around each individual compound. We applaud and support the need for more research.
The Cannabis industry is rapidly changing and it can be challenging, and at times overwhelming to keep up with a dizzying amount of information. We strongly encourage our customers to stay informed and seek proper education on our CBD Wisdom section as research continues to evolve.
We invite you to read our questions and answers regarding the sale of our hemp-based CBD products. We want to emphasize that we make no claims regarding the benefits of CBD, nor the sub-cannabinoids including, but not limited to, CBG, CBN, or THC.
We are proud supporters of the U.S. Hemp Roundtable and Project CBD, a trusted resource with quality information.
Scroll down to find everything you need to know to get started with your CBD Education. Or click here for our CBD FAQ.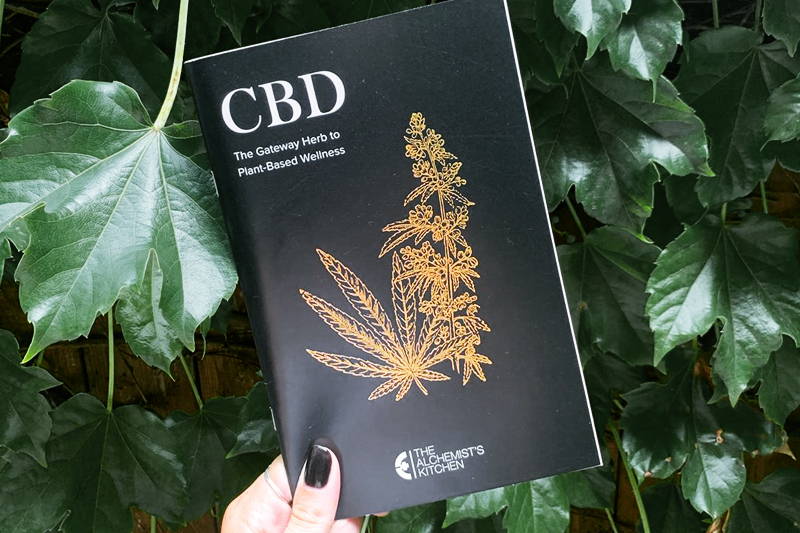 Introducing our CBD Zine
Our Zine -CBD: The Gateway Herb to Plant-Based Wellness- goes into more depth for users looking to take their CBD routine to the next level.
Oils & Tinctures
Oils & Tinctures
CBD sublingual concentrated oils are a bioavailable way to take CBD if you'd like to control dosage in small increments. This whole plant formulation is full spectrum, cultivated from organically grown flower, and extracted in small batches to maximize the inclusion of the plant's natural terpenes and phytocannabinoids. CBD oil is non-psychotropic and non-intoxicating, and intended to provide relief for muscular and joint discomfort, inflammation, anxiety, and pain. It's easy to include in a daily routine, and dosage can be modified easily.
Capsules
Capsules
Consuming CBD as a capsule is perhaps the slowest acting form, however, faster is not always better! Capsules come pre-portioned and marked with exact dosage, so they're easy to monitor and consume. They're best for providing relief for: insomnia, general long term pain, and digestive ailments. When consuming CBD via capsules or edibles, it is more slowly released through-out the body but its effects can be felt for at least 4 and up to 12 hours.
Topicals
Topicals
Often made into a salve or balm, CBD oil can also work well topically, when experiencing pain, swelling, or inflammation in a localized area of the body. Cream and Lotion is most often applied directly onto the skin and massaged into the muscle or joint location. Lotion or cream can provide relief from: acute inflammation, localized join and muscle pain, skin irritations, including redness, acne, and eczema. Effects can be felt for 2-3 hours, depending on application and use.
CBD FAQ
What is CBD?

Cannabidiol or CBD is a non-psychoactive, non-intoxicating component of the cannabis plant with enormous therapeutic potential. Although CBD is still in the early stages of scientific research and clinical trials, there is increasing evidence that CBD offers a range of options to assist with the relief of stress, anxiety, and inflammation, an underlying cause of muscular discomfort, and joint pain.
What does the scientific research have to say about CBD?

Thankfully, there are more research centers in the United States and elsewhere who are currently studying the effects of CBD on these and other ailments. Scientists refer to CBD as a "promiscuous" compound because it confers therapeutic benefits in many different ways while tapping into how we function physiologically and biologically on a deep level. Extensive pre-clinical research and some clinical studies have shown that CBD has strong anti-oxidant, anti-inflammatory, anti-depressant, and neuroprotective qualities. One of the most important studies relating to full spectrum CBD oil took place at the Hebrew University of Jerusalem's Hadassah School in 2015. It compared the performance of a full spectrum concentrated CBD oil with one that contained CBD only. The study concluded that full spectrum was more effective when fighting pain and inflammation.
What is the difference between CBD Isolate and Full Spectrum?

A CBD isolate is exactly what it sounds like; pure, isolated CBD compound, all by itself. It exists as and appears as white-ish powder, and contains no other active medicinal compounds.

Full-spectrum CBD, on the other hand, contains many other active plant compounds in addition to the CBD. This includes other cannabinoids such as CBG, CBN, and CBC, as well as cannabis terpenes like pinene, limonene, linalool, and humulene. Terpenes are plant compounds that give the cannabis plants its unique fragrance. Even in small amounts, terpenes work extremely well with cannabinoids to add medicinal benefit for the healing of the body.

For some time now, researchers and practitioners have believed that a more unrefined extract taken from the plant itself provided more benefits due to what's called the entourage effect. First described in 1998 by Israeli scientists Shimon Ben-Shabat and Raphael Mechoulam, the entourage effect supposes that the multiple cannabinoids and terpenes found within Cannabis Sativa actually work in unison and harmony to produce a better outcome than if they were employed solo. In other words, "the whole is greater than the sum of its parts" when it comes to cannabis.
What's the best way to take CBD?

CBD-rich cannabis oil products can be taken sublingually, orally (as edibles, lozenges, beverages, tinctures, and gel caps), or applied topically. Concentrated cannabis oil extracts can also be heated and inhaled with a vape pen.

Inhalation is good for treating daily stress that requires immediate attention; the effects can be felt within a short time and typically lasts for several hours. The effects of orally administered CBD-rich cannabis oil can last for four hours or more, but the onset of effects is much slower (30-90 minutes) than inhalation.
What is the optimal dosage of CBD?

An effective dosage can range from as little as a few milligrams of CBD-enriched cannabis oil to a dropperful. Begin with a small dose of CBD concentrate, which is produced for micro-dosing and can be increased over time. Take a few small doses over the course of the day rather than one big dose. Use the same dose and ratio for several days. Observe the effects and if necessary adjust the ratio or amount. Don't overdo it.

Everyone is different, and the body will respond better if you begin with the intention of testing, safety, and care. And although CBD has no known adverse side effects, too much can be less effective than a moderate dose. "Less is more" is often the case with respect to cannabis therapy.
Does CBD have constraints with Prescriptive Drug Medications?

CBD is a very safe plant compound, but patients taking other medications should check with their doctor about drug interactions, which are more likely when consuming high doses of single-molecule CBD products.
Is CBD legal?

CBD is legal to be purchased in all 50 states of the U.S. under the 2014 Farm Bill when grown from certified hemp farms. Plant Alchemy CBD products are cultivated from cannabis-rich full spectrum flower, fully tested and verified by third party analytical labs, and contains no more than 0.3% of THC, which is the legal limit for THC in CBD.
Where is Plant Alchemy CBD sourced from?

Our plants are grown in both outdoor field and greenhouse environments in Colorado and New York State. Our hemp is cultivated using living soil organic principles, leveraging strictly organic inputs and in full compliance with the controls defined by the New York State and Colorado Departments of Agriculture. Our botanical strains offer some of the highest CBD cannabis varieties currently known.
What is the extraction process for Plant Alchemy CBD products?

All of our extracts are produced in a state-of-the-art laboratory and are free of any residual solvents for the purest oil possible. Our extraction facilities are one of the very few licensed and certified facilities in the State of Colorado focused on whole-plant, non-psychotropic non-intoxicating cannabinoid processing of botanical material.
Are Plant Alchemy CBD products organic?

Yes. All our plants are grown using a true living organic cultivation methodology. We feed the soil so the soil can feed the plants.
Are Plant Alchemy CBD products sustainably grown?

Local inputs are leveraged wherever possible to avoid the carbon impact associated with shipping amendments across the country/world. Cultivation environments are operated on closed-loop permaculture principles to recycle and reuse wherever possible.
Are Plant Alchemy CBD products free of pesticides?

We pride ourselves on the cleanliness and consistency of our products – whether in botanical form or concentrated oils. All essential oils and biological pesticides used are OMRI certified and are non-toxic. All products are tested by 3rd party analytical labs using a variety of testing methodologies and are free from pesticides, molds and harmful microbes.
What is the potency range for Plant Alchemy CBD?

We presently offer four levels of potency for our full spectrum, organic, hemp-derived Plant Alchemy CBD Concentrated Oils. Our oils have 4x the cannabidiol concentration over most foreign sourced hemp products in the market today.Our Plant Alchemy Concentrated Oil suggested dosage servings are measured by individual drops for each concentration as shown below:

165 mg, 330 mg, 500 mg ≈ 2 mg per drop
750 mg ≈ 3 mg per drop
1,000 mg ≈ 4 mg per drop
1,500 mg ≈ 5 mg per drop (our new Extra Strength concentration)
Will Plant Alchemy CBD Oil cause me to fail a drug test?

Although quite rare, the consumption of certain CBD derived hemp products may lead to a positive drug test for tetrahydrocannabinol (THC). THC is inherently present in trace amounts in hemp plants. The legal limit of THC in hemp is no more than 0.3%. Furthermore, the underlying science behind the conversion of certain cannabinoids, for example cannabidiol (CBD), when consumed, to other related cannabinoids, for example THC, continues to require research. Although the risk is low, individual biochemistry, the possibility of conversion of cannabinoids and the possibility of trace, but legal, amounts of THC inherent in hemp products, we recommend consulting your health care provider before consuming any hemp products if you are subject to drug testing.
Can I order Plant Alchemy CBD products and have them shipped to another state?

As long as CBD products contain no more than 0.3% of THC, they can be shipped across states and we will ship internationally to private individuals upon request. Plant Alchemy CBD products are fully tested and verified by third-party analytical labs, and contain no more than 0.3% of THC, which is the legal limit for THC in CBD. Therefore, shipping our product from state to state is legal.